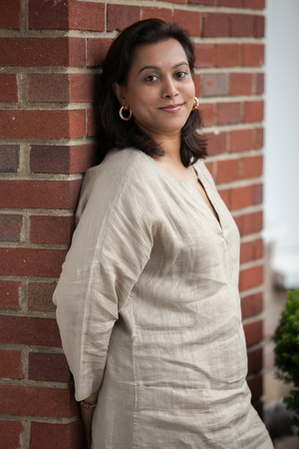 Happy Monday Folks!
It's a blistering 91 degrees in NYC today! I guess summer decided to show up a few days early. Since we didn't exactly get to experience spring, I have the feeling summer is going to last super long (I'm talking mid-October long). Booooo! Climate change is no joke and our seasons are all screwed up because of it. Ugh. Sadness. So much sadness.
Okay, now that I've totally cramped your style with my depressing observation, lol allow me to make you smile with today's author spotlight. Falguni is a fellow RWA NYC Chapter member!!! She's such a lovely lady, and you should learn a little about her.

Take it away Falguni…
I always find author interviews kind of boring. We only get to see one side of an author, the polite side. If you had an evil doppelganger, what detail would they enjoy revealing about you to the public that people would find surprising and possibly questionable?

Besides my tendency to be snarky, I'm mostly clueless about the absolute awfulness that goes on in the world. I stay away from politics and current events. This is by choice. I dislike getting irked and worked up about things I cannot control or change. I think this cluelessness about current affairs irritates people, especially when I look at them blankly when they're all up in arms about the new nonsense going on in the world and want a reaction from me…which considering all of the above, I cannot give them.

What's the one activity that fills you with joy?

Besides reading? Dancing, be it Indian Classical or Ballroom or Latin or Zumba. Moving my body to music instantly puts me in my happy place.

Are you motivated by competition with others?

Yes. And keeping it on the healthy side is damn hard. I also compete with myself. My current book has to be better in every way from my last one.

The virgin hero trope in your Romance reads, yay or nay?

Five words: James Alexander Malcolm Mackenzie Fraser of Outlander fame. So, of course, yay. Also, hubby and I were both…ahem. Yeah, so personal experience and testament also says, yay. TMI? 😲

True or False statement: Nobody will ever care about your books as much as you do.

False. So many others care so much! From my family to my readers to my editor. This is one of the reasons I kill myself to create better and better stories. I feel I have a responsibility not only to myself but to them as well.

What's one of the best or more worthwhile investments you've ever made? It doesn't have to be money. It could be time, energy, anything you've invested into that gave you a tremendous return on your investment.

Can I say my kids? They make me so tremendously proud every single day. Also, my dog. He's the best emotional investment I've made. Better than my kids, actually. LOL

If peanut butter wasn't called peanut butter, what would it be called?

Nutty Delight

What's the most imaginative insult you can come up with?

To borrow from Shakespeare: You are the plague sore inside my armpit

Toilet paper, over or under?

Over. Under. Whatever. It just needs to be there when I need it.

What do think you are much better at than you actually are?

Parenting. *sigh* I keep thinking I haven't broken them and they're both adults now—or one is and the other will soon be. That's a win, right?
**Bonus Question**
Ever tried BDSM? If not, would you?
😲 IRL no. I am definitely not the type for either dominance or subjugation. I'm a centrist, remember? I like things balanced. Equal give and take. If we're talking about writing a story, then maybe since I like to write unconventional stories, and I like to genre hop.
Bio:
Falguni Kothari is the author of unconventional love stories and kick-ass fantasy tales. Her novels, most recently MY LAST LOVE STORY, are all flavored by her South Asian heritage and expat experiences, and delve into themes of marriage, love, friendship, family and parenthood. Her books have been reviewed and praised in a number of publications, including the New York Times Book Review which said, "Kothari poses a fresh conceptual question about marriage and love."
She is also an award-winning Indian Classical, Latin and Ballroom dancer, and currently spikes her endorphin levels with Zumba. While she resides in New York with her family and pooch, she can be found online at FalguniKothari.com and on various social media. She is @AuthorFalguni on Instagram and Twitter, and @FalguniKothariAuthor on Facebook. Get the latest updates at bit.ly/FKMailingList.
Additional Social Media Links:
Books:
Activate your one-click finger and grab Falguni's latest novel, My Last Love Story at the following retailers:
https://books2read.com/MyLastLoveStory