Happy Monday Party People!
It's a beautiful day in NYC, which means it's a perfect day to make a Historical Romance fan happy! 😁
Last week, you may have spotted this picture of Sarah taken by moi on social media.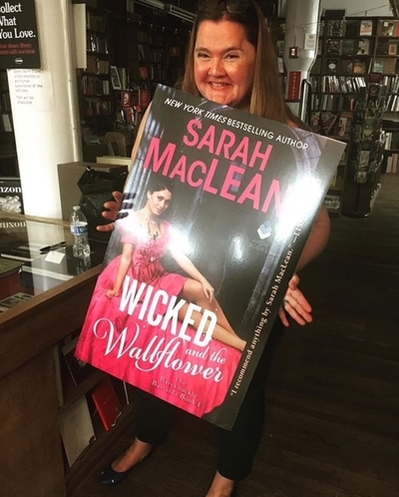 I snapped the photo after a panel event at the Strand Bookstore. If you've attended book events, then you know publishers and publicists prefer to go home empty-handed. No one wants to carry extra stuff home. Since the poster board sat against a pillar feeling sad and neglected, I asked Sarah if she'd sign it. She happily obliged and I told her I'd give it away on the blog, so here we are! I suspect the poster board is super happy it didn't end up in the trash, or in a dusty closet never to be seen again, LOL.
Want to win it?
All you have to do is tell me the name of your all-time favorite Romance comfort read in the comments below! I'll randomly select a winner next Monday. Now, all that's left for me to do is to find something big enough to fit this thing in so I can ship it!
**If you are chosen as the winner, you will be asked to provide your full name and mailing address. You will have 24 hrs from the time I reach out to you follow up with your information. If you do not respond within 24 hours, I will select another winner.
***Please only enter if you genuinely want to win this lovely poster board. I want it to find a home!