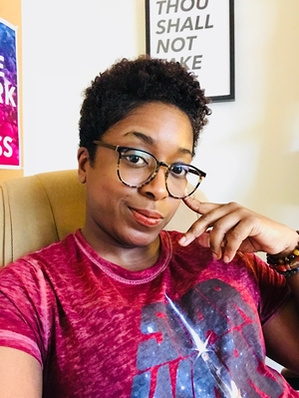 HAPPY MONDAY FOLKS!
More importantly, HAPPY INDIGENOUS PEOPLES' DAY!✊🏾
Hard to believe we're in the third week of October. Time is flying, and we only have a few more weeks left in the decade. THE DECADE. Insane, right? I've been getting my NaNoWriMo preparation underway. The month of November is *always* my most productive time of year. It seems appropriate to spotlight Tasha this week since she's been helping me up my writing game with her #20kin5Days sprints.

Learn some juicy tidbits about this dope lady!

I always find author interviews kind of boring. We only get to see one side of an author, the polite side. If you had an evil doppelganger, what detail about you would they enjoy revealing to the public that people would find surprising and possibly questionable?
My doppelgänger would probably take pleasure in revealing the fact that I'm frequently an anxiety ridden basket case who spends a lot of time in my closet meditating. While I don't hide my anxiety from anyone, I strongly feel like it's my damn business to deal with in the way I see fit and sitting on the floor in my closet is it. It's quiet in there and if I'm lucky, a sip of whiskey is involved.

If it were possible, would you want spoiler alerts for your life?

Nah. While there have been some bumps in the road along the way, I truly believe that all of that contributed to the person I am today. No losses just lessons, nah mean?

Do you view writing as a kind of spiritual practice?

Listen. I used to think people who treated their writing too preciously were kinda weak and constant victims of their "muse." While I still don't believe in writer's block and my only muse is me, I have found comfort in putting some rituals around writing like burning sage and palo santo, good instrumental music, and my magic rocks (crystals). It gets me into my writing headspace a lot faster and while it's pretty precious process, it's also portable so I don't feel like I need to be in a particular space at a particular time to get words on the page.

What's your favorite '90s jam?

My fav 90s jam is Murder She Wrote. I love 90s dancehall. I spent way too much time in basement parties windin' mah likkil waist. *Harper here. Had to insert the YouTube link, I may have had a mini dance break*💃🏾

If you were to get rid of one state in the U.S., which would it be and why?

I don't know that I would get rid of any state in particular, but I would request that Florida get a major goddamn audit from top to bottom. Between stand your ground and the fucked up laws that keep police from solving crimes, I don't know if anything but it's beaches make it salvageable.

What were you like in high school?

So, a few years ago my school hosted it's 20th reunion. I didn't get an invite and only found out about it weeks before the event from a few friends I'm still connected with on FB. According to these folks who still follow me in some capacity, I'm the same ole Tasha. Opinionated, independent, and well acquainted with who I am. I don't think I ever felt that way in high school but as a military brat, I was accustomed to being the perpetual new kid so I didn't stress too much about having or making friends or even getting attached to the ones I did make. Somehow that translated as confidence to them, but my therapist seems to think it's detachment. I just think it's a survival tactic that comes in handy from time to time.

How often do you read out of your comfort zone?

Constantly. I like books that make me feel uncomfortable. Pain and discomfort precede growth (most of the time) and I always want to improve on the person I was yesterday.

If you could kill off a character from any current television show, who would it be?

Most recently it was Corny Carl from The Walking Dead, but now that he's dead, I'm to sure. I don't watch a ton of TV, to be honest.

Finish this sentence: Self-care means _______.

Skipping the bath and retail therapy and learning or doing something new. Self-care is more than face masks and a new hippie—but those can be nice on occasion, too.

Name a Romance novel you believe more people should read.

Is it wrong to say mine? LOL I'm mean yeah, read The Truth of Things, but if I must recommend a romance that I've read and loved recently, I'm going to call out A Princess in Theory by Alyssa Cole. It was smart, trope-y, mainstream, and still Black as hell. I loved it.

**Bonus Question**

Ever tried BDSM? If not, would you?

I have no answer for this except to say that if you're in a long-term, trusting relationship with someone, it's smart and good for the relationship to try everything at least twice. Three times to really see if you like it.


Bio:
Often accused of navigating life without a filter, Tasha L. Harrison has managed to brand herself as the author who crafts characters and stories that make you feel all of the feels. She writes African American, interracial and intercultural erotica and erotic romance with heroines just as brazen, emotionally messy, and dramatic as herself and heroes that love them anyway.
Social Media:
Books:
Get your one-click finger ready! Go and download The Truth of Things!
WHERE I COME FROM, COPS AREN'T SUPERHEROES.
Photojournalist and wedding photographer Ava Greene has been unlucky in love, and even though she calls herself a hopeless romantic, she is more than a little bitter about it. The only attention she seems to get is from the men she has absolutely no interest in and has become unintentionally celibate in her effort to avoid "trash ass dudes." Ava has officially given up on the idea "the one" when Officer Friendly rolls up on her block.


"NOT ALL COPS…"
Arrogant and just shy of being a cornball with his bad-dad jokes, she knows that this stocky cop might just be the one to make her second-guess every thought she ever had about those who protect and serve.
Ava tries to make it clear to Levi that she doesn't need saving, that she doesn't need to be worshiped, but he is convinced that is exactly she needs. But when Ava finds herself on the wrong side of the law, will he be the hero she needs or toe the "thin blue line?"