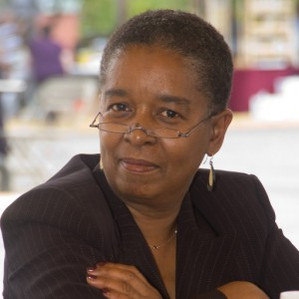 Hi Folks,
Tis another HOT Monday in New York City. Is it too early to wish for fall yet? LOL, I'm fickle. Give me weather in the mid-seventies with a gentle breeze, and I'm sold. This heatwave nonsense has got to go!
In any case, when I attended the RWA National conference last month, something magical happened. I had a sit-down with Ms. Bev! She let me pick her brain, and it was hands down one of my most memorable author experiences. If you haven't already met this fabulous woman, you should know not only is she one hell of a writer, she's super lovely and straightforward as fuck. My kind of woman! Ms. Bev was gracious enough to answer any and every question I had about maintaining a career in this business for the long haul. I can say her nuggets of wisdom will stick with me for a long while. I am forever grateful for her kindness. 💖

Sit back, relax and laugh a little. Get to know a bit about Ms. Beverly Jenkins.

*Disclaimer* I'm a hot mess. I forgot my tripod back in NYC, and I didn't realize it until I was ready to board my plane! Luckily, Alexis Daria was kind enough to lend me hers, but unfortunately, I couldn't get my phone to sit in a position to capture the interview in widescreen. So, you get a glare from the sun and Ms. Bev occasionally being cut out of the frame because I'm a hot ass mess who forgot her tripod. LOL, but overall, IT WAS A GOOD INTERVIEW, I SWEAR. I was giddy. It's evident from my non-stop smiling. 😃
Bio:
Beverly Jenkins is the recipient of the 2017 Romance Writers of America Nora Roberts Lifetime Achievement Award, as well as the 2016 Romantic Times Reviewers' Choice Award for historical romance. She has been nominated for the NAACP Image Award in Literature, was featured both in the documentary "Love Between the Covers" and on CBS Sunday Morning. Since the publication of Night Song in 1994, she has been leading the charge for multicultural romance, and has been a constant darling of reviewers, fans, and her peers alike, garnering accolades for her work from the likes of The Wall Street Journal, People Magazine, and NPR.
Social Media:
Books:
Give your one-click finger one heck of a workout by going through Ms. Bev's backlist here or pre-ordering her upcoming release Second Time Sweeter: A Blessings Novel here.