Hey Folks,
Happy #GivingTuesday! Its been a while since I've done one of these posts, but it made sense to compile one with the Christmas holiday quickly approaching. Many of you will undoubtedly have lots of free time to binge-watch new shows in addition to clearing out your TBR pile. Allow me to share a couple of things I've enjoyed the hell out of as of late; they just might become your next obsession too! Get ready for some pop culture deliciousness…

Watchmen
I abruptly canceled my HBO Go subscription after Game of Thrones concluded, and I had no guilt over doing so. Eight fucking years of my life wasted. If you can't tell, I'm still very bitter about the final season, LOL. #shadefordays #Benihoff&Weisscansuckit
Maybe they'll win me back someday (I doubt it), but crazier things have happened. I'm giving Damon Lindelof a second chance after the fiasco that was Lost. Watchmen is his redemption.
Anywho, my internet provider had free previews for HBO over Thanksgiving weekend, and I decided to stream Watchmen. I read the series some years ago, so of course, it made absolute sense to plow through all six episodes. I finished just in time to catch episode seven on Sunday night. The Dr. Manhattan twist at the end was everything. REGINA KING, y'all. 🗣️I SAID REGINA KING! I will watch anything with that woman at the helm. Even if you're not a fan of graphic novels, you want to tune in to this show. It's incredibly relevant to our current political climate. Watch the trailer below for a great summary of what you're in for. Did I mention the badass casting? If Jeremy Irons is included, you already know it's going to be off the charts.
Books
Being Neighborly by Meka James

If you follow me on Goodreads, you know I've been on a reading streak as of late. I'm primarily a non-fiction reader, but I've been trying to work my way through my romance backlist and keep up with what's current. Back in July at the RWA National conference, I acquired a USB stick from Carina Press with upcoming releases. Meka James' Being Neighborly was one of the books on the stick. I love a good novella. I love a dirty novella even more, and Meka hits my sweet spot. Peeps, this novella was so lovely! It's published under Carina's Dirty Bits line, and it lives up to the category. Jesslyn catches her neighbor Ryan masturbating, and hijinx ensue. Looooooved this so much. Mutual masturbation romances are my jam. *bow chica wow wow*😏
Pumpkin Pounder by Laura Lovely
If you haven't read Laura's work, you're missing out. If you haven't had the opportunity to meet this lady, you're also missing out. SHE IS FANTASTIC. If pure and wholesome fun were to ever manifest in human form, it would take the shape of Laura. Pumpkin Pounder is the second book I've read of hers, and it was just as enjoyable as the first. Daisy is a gal who loves her some red-headed men. When she encounters Jack on Halloween night, things get very interesting. Also, I haven't come across many novellas where the MC is in therapy. Laura wrote the scene with a lot of care, and I'm here for it. Give this woman all the stars, folks.
California Secrets by Jules Bennett
I am not one for category romance, but lately, I've been devouring books from the Harlequin Desire line. Rarely do I come across a book written by a white author who writes her black heroine with a sense of purpose. Jules made Harper (yes, the heroine's name is Harper 😁) three-dimensional. The lady has layers, and I adored her. Of course, being that it's a Harlequin book, tropey goodness abounds.
✔Evil relative
✔Accidental pregnancy
✔Revenge by any means necessary
Dive in! I promise it's worth every moment of your time. Also, THAT COVER. YAAASSS!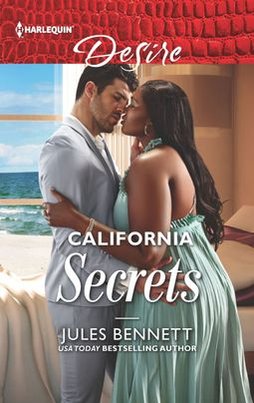 These Engaging Articles
Now that I've discovered Flipster, I am alllllll over catching up on my favorite magazines. My wallet is also happy since I no longer have to renew my subscriptions. Here are a couple of interesting articles I've read the past couple of weeks:
Social Media Habits to Give Up in 2020
Sterling K. Brown Wants the Conversation Around Diversity to Shift from 'Inclusion' to 'Celebration'
Lin-Manuel Miranda on The Role of the Artist in the Age of Trump
Looking Back at a Decade of The Fame Monster, the Album That Made Me Gay
*Couldn't list the last article without the visual accompaniment of Bad Romance. You need to see the video to really understand the beginning of the article in context*
Jack Ryan
I'm a person who bitterly subscribes to Amazon Prime. Not for the quick shipping but for the vast amount of TV shows and movies the Zon has on tap. I'm not particularly into many of the original series, but Jack Ryan has sold me on the power of Tom Clancy. I mean, technically, Harrison Ford did this years ago when he starred in the role, but John Krasinski reinvigorated my interest. If you're a fan of espionage, government conspiracies, and lots and lots of action, you'll want to dive in. The plot for both Season One and Season Two is outstanding. Check out the trailer for Season Two below!
Showing Support
Lastly, as I mentioned above, it's Giving Tuesday! Who doesn't love giving? (Aside from the political demons who tirelessly work at trying to take healthcare away and think locking children up in cages is appropriate, but I digress). I donate not for tax purposes, although the write off is nice, but because it feels good to do good deeds for people and organizations in need. Organizations that try their damnedest to honor and uphold the truth. In case you're looking for suggestions on where to lend your support, might I recommend:
Reveal | from the Center for Investigative Reporting
The New York Public Library (you can choose which branch you'd like your donation to assist)
PBS: Public Broadcasting Service
And this concludes shit I'm diggin' this week. See you in a couple of weeks for my year in review. Till next time, folks! 😉