Heyyy Folks!
Happy Monday. Let me tell you, I have been digging A LOT OF SHIT LATELY! 😮 I thought it best to make two posts this week rather than doing one mega post. I'll post the first half today, and the other half on Friday. You'll be starting and ending your week with some pop culture recommendations! 😀
So without further ado… allow me to share what I'm digging.
Killing Eve
If you don't have cable, don't fret. Hulu is picking up the series, and it'll be available to stream later this year. If you can't wait, you can, of course, purchase the episodes on iTunes and YouTube. I can't tell you the exact date the series will be available to stream on Hulu, but the good news is you won't have to miss out on the fabulousness.
I found out about Killing Eve from pop culture writers I follow on Twitter. I didn't want to be left out in the cold, so I indulged immediately! I think I binged six episodes in one day. It was torture waiting for the last two episodes, but the season has ended, and holy hell was it good. Also, I didn't realize how much I missed Sandra Oh on my television screen. I NEED TO SEE MORE OF HER IN THINGS! Check out the trailer mashup below.
Junk by Tommy Pico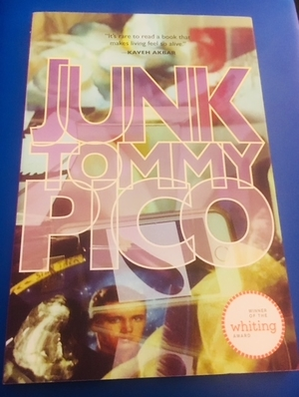 Junk is another gem I found via conversations on Twitter. Poetry is my jam! I've started and stopped a lot of books lately because I haven't been in the mood for long reads, but poetry seems to hold my attention. Quick and quirky bursts of creativity are exactly what I need. Tommy Pico captures New York City so incredibly well. There are Beyoncé references and Janet Jackson lyrics interwoven in between Pico's quest for intimacy. He eloquently describes how much of a hassle dating can be in one of the busiest cities in the world and I loved all of it. Junk is probably one of the most fun books I've read this year. Activate your one-click finger and check it out!
This is America by Childish Gambino aka Donald Glover aka Lando Calrissian in the new Star Wars flick
This is the only Donald I acknowledge.
I CANNOT STOP LISTENING TO THIS SONG! I think I listen to it at least twice a day, and I've watched the video countless times. Each time I do, I swear I discover something I missed previously. If you haven't seen this video by now whew boy, you're missing out. TW: THERE'S GUN VIOLENCE.
It's there to startle you; it's there to make you uncomfortable, it's there to mess up your entire psyche. I've recently become a fan of Glover's work via Atlanta, but I listened to his last album "Awaken, My Love!" not too long ago and I enjoyed it. I value DG's storytelling, and I'm honestly looking forward to seeing where his artistic endeavors will lead us. Seems like he's only getting started when it comes to making us uncomfortable. I'm here for it!
Here are some thought-provoking reads about the video:
'This is America' Through the Eyes of a Jim Crow Historian
Why the Dancing Makes 'This is America' So Uncomfortable to Watch
Donald Glover's 'This is America' is the Nightmare We Can't Afford to Look Away From
Being Serena
This was another weekend binge watch that was well worth the time. I'm so sad there were only a few episodes of this doc. Just when I was getting into the show, it ended, and Serena was off to France to train for the French Open! The documentary follows Serena Williams (the G.O.A.T.) shortly before the birth of her daughter Olympia, after delivery, and in the weeks following as Serena attempts to regain her title as the best female athlete in the world.
*Spoiler Alert* We know how things turn out with the French Open, but Wimbledon is up next! It was nice seeing an intimate side of this Williams sister as she juggles motherhood and being a new wife. I found myself saying "Aww!" a heck of a lot while watching. Check out the trailer and be prepared for a binge-watching session of your own.
And that's all (for now) folks! See you on Friday for the rest of the shit I'm digging!