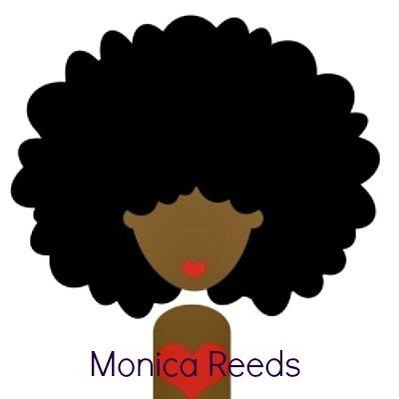 Hey, hey, hey!
I've been super busy at the day job which means I haven't had the opportunity to get this post up sooner! Mondays suck, amirite?! But no worries, I wouldn't let you down!
This week, I feature a lovely lady who was one of the first bloggers to embrace me. Monica has been very supportive of my career, and I appreciate her sharing my work with her readership. This lady can read!!! LOL, if you end up following her on social media, you'll be extremely impressed by her book hauls. I thought I was a book hoarder, but I believe she puts me to shame!
Get to know a little about Monica.

Since I've asked authors this question, I'm going to ask you the same thing. Most author interviews are pretty boring. We only get to see one side of an author, the polite side. I'm sure the same can be said for bloggers. Soooo, if you had an evil doppelganger, what detail would they enjoy revealing about you to the public that people would find surprising and possibly questionable?

That I am not always calm and nice. It does take a lot to make me snap, but when I do it ain't pretty! I look forward to slowly morphing into a hard cursing, whisky sour drinking woman who speaks her mind with liberally sprinkled curse words without a care. I try to be diplomatic in my responses to people in general, but the older I get the more I realize that sometimes you just have to call a spade a spade. The phrase "Bitch, please" is applied liberally to both women and men in my mind.
Top 3 favorite books of all time?

This is so HARD!! Just three? I could do a top three of each of the many genres that I enjoy! If I am forced to just list three, the first would have to be Roots by Alex Haley. It is truly my favorite book. I reread it regularly and can't imagine never having experienced it. Haley's depiction of generations of heartache, devastations, and ultimate survival of the vilest circumstances was life altering for me as a young woman. My second book would have to be The Warmth of Other Suns by Isabel Wilkerson. Although I just read it last year it made such a huge impact on me. It is a book that I want to buy for everyone I know and force them to read it. Even though it is a nonfiction book tracking the migration of African Americans from the south to the north in the early to mid-20th century, it is written so beautifully and reads so smoothly that I felt completely immersed in each person's journey. Wilkerson brings so much emotion and passion to The Warmth of Other Suns that I actually teared up several times. I suppose my last book would be The Fire Next Time by James Baldwin. Written in 1963, it is still scarily relevant. It reflects the social injustices that we are still facing in America today. Baldwin's writing is achingly beautiful and shreds me every time.
Limiting me to three was cruel Harper! I didn't get to list any romances (general and erotic), general fiction, science fiction/fantasy, or mystery/thrillers! You know I love a little of everything! ;-)
What's the most important lesson you learned in your 20s?

That the world is not just, it is much larger than I realized, and that the way I move in the world is not the only good way. I know that sounds flippant, but it is absolutely true. I grew up in a very comfortable bubble surrounded by people very much like myself. The scariest and best thing that I ever did was taking the leap with my husband when he commissioned into the Air Force and moving away from everything that was familiar and comfortable. By leaving the support of my family and community, I had to learn to trust in my own ability to make good decisions and learn from my bad ones. To be honest, my early 20's didn't teach me a whole lot, I think that your 20's are meant to be filled with starts and stops while you figure out who you are as a person. I began coming into my own in 30's.
What lead you to blogging?

One of my best real life friends started a blog with another friend and she kept saying that I needed to either jump onto her blog or start one for myself. So I was basically peer pressured into it! I am a little controlling so I knew that I wouldn't do well having to run things by someone else. I began knowing absolutely nothing about blogging, formatting posts, or writing coherent reviews. I fumbled my way through a lot, including content. I started by just featuring some of my old favorite reads, joining blog tours, and featuring a lot of mainstream romances. That first year was rough! My blog has evolved a lot since the beginning and is now a better representation of what I read and enjoy. It's an eclectic mix of genres where I try to give space to books and authors that aren't always well represented in the larger book community.
Finish this sentence: If I could turn back time I would ______.

Be more adventurous.
What makes a book a DNF for you?

Boredom. If I have to talk myself into returning to a story I know it's not for me.
Where's the last place you went on vacation?

Universal Orlando
What's your favorite smell?

Vanilla. It can be a candle, in cooking, or perfumes. The smell of vanilla just feels like home for me.
What's the most reread book in your home library? What makes it your go to reread?

Roll of Thunder Hear My Cry by Mildred D. Taylor. Although it isn't a 'happy' read or even a book written for adults, it is a book that gives me joy every time I pick it up. For me Cassie, is one of the best juvenile characters that I have ever come across.
Do you have any pet peeves?

The misuse of the term 'literally'. No one literally jumps out of their skin. It's petty I know.
**Bonus Question**

Have you ever tried BDSM? If not, would you?

I have not, but the hubby and I have been married for twenty-four years now, so who knows? We may get adventurous some day!
About:
Monlatable Book Reviews features an eclectic mix of fiction. Literary fiction, African American fiction and romance, interracial romances, Science Fiction/Fantasy to bikers, there is room for everything; even a bit of erotic romance. I enjoy it all. I'm an unashamed and dedicated book hoarder. This blog is a place for me to spread the book goodness and all that is exciting in my book world. I feature both new releases and older backlist titles.
Social Media:

Blog: Monlatable Book Reviews
Instagram: @readermonica

Twitter: @MonlatReader
Goodreads: Monica **can't read fast enough**